promoted from the diaries

So the questions being posted all over the internet these days are what will the final standings be in the West, who will match up with who, and who WANTS to see or PREFERS one over the other?
Yahoo does an article here, citing a few blogs from around the West and what their opinions are on who they would like to see their respective teams match up against in the first round.  
Rockets wanna see Utah and not Dallas or SA (because he cant handle ours or SA's fans?  WTF, do I need to even say more about this?  What a moron. Not only am I not taking him seriously, I am not taking this team and their stupid streak seriously either.)

Lakers wanna see Phx (revenge for past 3 yrs and to show that they can win without Shaq while playing AGAINST him) and not the Spurs.

Suns would like to see the Rockets, and not the Lakers (hmmm... perhaps Phil HAS gotten into the coach with 3 first names head after all... not so confident are we "stache"? Especially after you pulled this crap.)

Spurs would like to see GS (careful what you wish for... Matthew might be drinking too much of the "Ugly Ass muddy water they call the Riverwalk") and he does not want to see the Lakers.

The Nuggets would like to see the Hornets first round, but know that IF they make the playoffs they wont make it to the second round cuz in reality, they are the team that everyone else WANTS to really play and aint making past any of the current 8 teams...
I imagine Wes will have something for them in the second segment of this, as will the Jazz, Hornets and Warriors (yikes! I can only imagine who THEY will wanna see first round).  Interesting thing here is, though
TexSun from BrightSideoftheSun
suggests the Suns would like too see the Rockets in the first round, he does a good job of breaking down what each match up would be like for the Suns against every team should they meet in the first round.  What caught my eye though, was the discussion on their site seems to say that some of the crew over there would like too see us in the first round, because we would be the "easiest".  Sonicking gives an example... Dallas is not a threat because Kidd can't guard Nash.  They don't have big bodies to guard Shaq anymore.  They would be the easiest team.
Really? Hmmm... Interesting.  Maybe he forgot about this last time we met in the playoffs...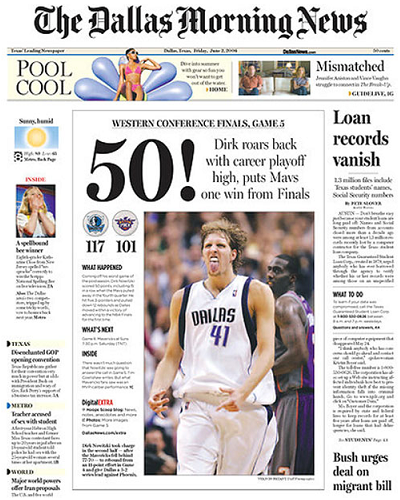 I think to be fair though, TexSun sums up a potential match-up between our two teams the best...
Best grudge-match: The Mavericks - Steve Nash vs. Mark Cuban Part 3 with a couple of new twists.
Ironically enough, the Western teams who seem to have started streaking at this all important stretch in the season right now (at least that's what's said as being the factor in the Sterns championship seasons), are the Rockets, Suns and Mavs...  Granted the later two have had fairly easy schedules to allow those "mini" streaks, but all three have big games coming up this week that will really tell us where these teams are at as we head into the playoffs.
So from the Mavs perspective, who do we want to see in the first round of the playoffs?  IMO, I say the Rockets, Hornets then the Jazz.  Rockets haven't gotten out of the first round in forever, and no matter how many games they win, still no Yao and a breakable McGrady.  Hornets are young still and yet could still pull a GS on us, but more than likely they will be legit after this year.  The Jazz are about as bad as we are away from home, and assuming we stay ahead of them in the standings, we would have home court and I like our chances against them as long as we stay ahead of them in the regular season.
Teams I don't wanna see in the first, second or third rounds... Lakers?  Nope, Kobe would average 60 against us.  Spurs?  Maybe if Harris and Diop were still here, but with the new look team we have I am not sure any more.  GS... err, hell no. Jackson still does work in Dirks sleep.  PHX? Shaq or no Shaq, Marion or no Marion, the coach with 3 first names could play 2 vs 5 against us with Nash and Amare running the pick and roll all damn day and we still couldn't defend them.
Unfortunately we are going to have to play 2,  maybe 3 (start your praying rituals now for this NOT to happen) of the later teams in the playoffs, assuming we make it to the WCF... Then Boston or Detroit.  I think our best shot at getting through these playoffs will be to play 2 of the 3 teams that I like our chances against...  but this is all wishful thinking and it'd still be VERY difficult with most if not all series going 6 or 7 games in the West no matter who is matched up with who...